Sony F55 Camera Test
02.27.2013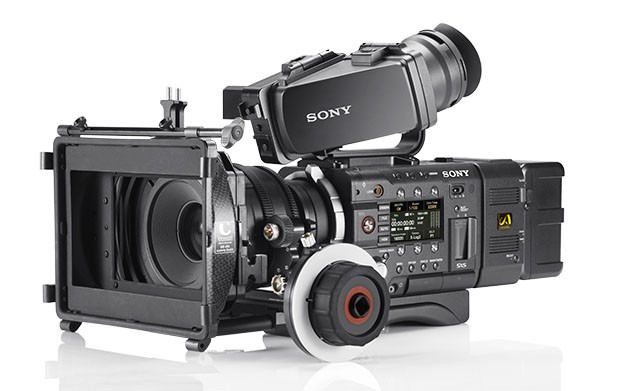 Written by Stephen Wheeler, Rental Tech Manager for Daufenbach Camera

Recently I traveled to our New Mexico office at Santa Fe Studios to test the new Sony F55 Cinealta 4K. With a host of impressive features, Sony has built a truly amazing camera system that will surely dominate cinema and tv production. The F55's ease of use, extended color gamut, new XAVC codec, and Sony AXS-R5 Raw Recorder will make it a powerful tool for HD and 4K production.

The first thing you notice about the F55 when you get your hands on it is how light and compact the camera is. Weighing only 4lbs, it's easy to tell that it will work well for handheld, steadycam, and 3D work. The Battery Adapter Plate and the AXS-R5 Recorder both mount to the rear of the camera using a simple but effective docking system. When you power the camera up and start going into the menus to set up your look and recording formats, the user interface and menu structure are a breeze to navigate. Frame rate, shutter speed, color temp, exposure, gamma, and MLUT are easy to change with just the touch of a button. The only caveat is that when you are navigating the advanced menus you need to be either looking into the eyepiece or a monitor connected to one of the sub-outs to see what you are doing.

The F55 shares the same Color Filter Array as the F65. This allows the F55 to read and record more colors giving it one of the largest color gamuts of any camera on the market. With this the F55 is able to more accurately record colors and gives you the ability to recreate more colors then even film print stock.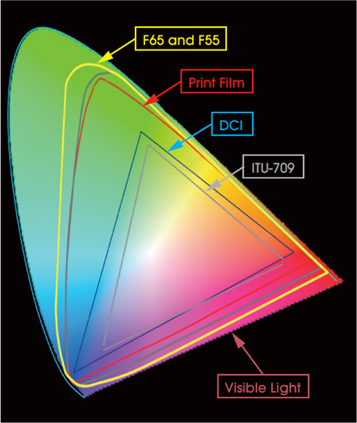 Sony's XAVC Codec is intended to be used for both Cinema (Digital Cinema Initiative 4096 x 2096) and Television (Quad HDTV 3840 x 2160). It gives you the ability to handle high frame rate HD and 4K recording. In this format the F55 will be able to shoot up to 60fps in 4K and 120fps in 1080. To deal with the increase in data that comes with higher frame rates and resolutions Sony has created the new Sony SxS Pro+ cards which boast an impressive data rate of up to 1.3Gbps. One 128GB card will give you about 50 minutes of record time when shooting 4K 24P and 20 minutes in 4K 60P.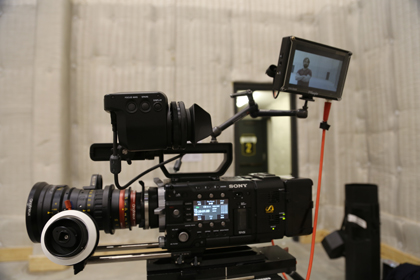 Now let's talk RAW. The F55 with Sony's new AXS-R5 RAW recorder can record a 16-bit Linear 4K Raw with a 1/3.6 compression. This uses the same bit depth technology as the 16-bit linear recording that the F65 uses and is compatible with the Academy Color Encoding System. What's really exciting though is the multi format abilities of the F55. While you are shooting 4K RAW you can be recording a HD XAVC file at the same time. This really opens up what you can do in terms of workflow. You can use the HD files as delivery and have the RAW as a future proof archival file, or use the HD's as dailies and smaller more manageable edit files then use the RAW in a final edit. Both files will share the same in/out points, timecode, lens meta data, file names, and other useful information.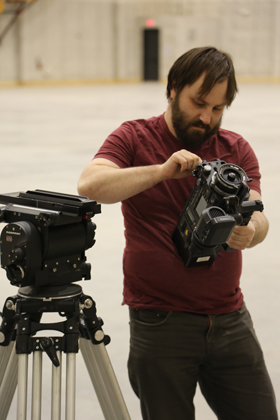 With planned firmware upgrades over the coming year unlocking things like the SR Codec with its 4:4:4 color space, the higher frame rate options, and other desirable features the F55 is going to be a monstrously powerful production tool. On set you need a camera that you don't have to fight with just to change a setting or load a look. In digital production having a widely supported workflow not only can save you time and money, but makes it easier to create the image you want. Being able to easily have HD deliverables for today's market and 4K RAW for tomorrow's will boast the longevity and image quality of your content. The Sony F55 promises to be one of the most impressive camera systems for cinema and TV production.